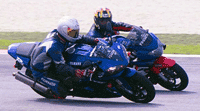 THANKS TO
Chiap Lee, Sporting Motorcycles, Motorex, Denso, Pirelli, Simple Green, Teknic
| | |
| --- | --- |
| Sports Bike Riders' Club | |
SBR was formed in November 2001 by a group of sports bike nuts that love to let off steam at the racetrack. We were having so much fun that we decided to form a club in order to encourage others to join us. We knew that venturing onto the track for the first time can be rather intimidating, not to mention expensive. With this in mind we registered the club with three main objectives:
· Improve safety
· Reduce cost
· Improve accessibility
Safety
A set of easy to understand guidelines on track riding and bike preparation can be found here. In addition, we offer members pre-track briefings where our most experienced members can answer any questions relating to our events; How to get there? What to wear? How much will it cost? How should I prepare? What should I expect? What does the track look like? … and so forth. There is no such thing as a stupid question, so feel free to ask anything you like and we will try to answer your query.
Cost
By booking hotels and track time through the club we can obtain better discounts which are passed directly to the members. SBR is a "not for profit" club run by volunteers so you get the best deals we can negotiate.
In addition we are also looking into arranging discounts for insurance, tyres and repairs.
Accessibility
By providing information we try to take the guesswork out of track days. We put riders in touch with other like-minded individuals so that they can share experiences. By being a member of SBR you will never feel like an outsider at the track since you have other club members that you can share your experiences with.