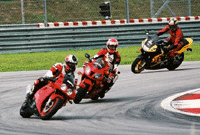 THANKS TO
Chiap Lee, Sporting Motorcycles, Motorex, Denso, Pirelli, Simple Green, Teknic
| | |
| --- | --- |
| Track Day , Sepang, April 14 | |
A great day at Shah Alam could only bettered by a return trip to the spiritual home of SBR - the glorious Sepang F1 circuit! For those who'd forgotten and those who'd been dissing it in favour of Shah Alam or Pasir Gudang, the simple act of riding into the pit lane dispelled all doubts that Sepang... simply rules.
There is a speed freak in all of us that only Sepang can appease. The joy of riding your bike, whatever it may be, with full open throttle, lap after lap, in the company of your mates, is simple hedonism.
One dark cloud in an otherwise perfect day was when the management allowed too many bikes on the track for the second 'competency test'. Over 50 bikes and differing levels of ability resulted in one or two (OK 4!) offs. No one was hurt and only plastic affected but, with safety in mind, the next Sepang trip, on the 28th April, promises to be an SBR only affair. We need to guaruntee the numbers - so sign up now!
Click an image to see full size...
These photos have been reduced specifically for this web page. By clicking on the thumbnail and viewing the larger image, you will see the clarity, colours and overall picture in more detail. All photos which are ordered will be cropped and enhanced to produce the best quality picture. Should you order a picture of a larger size and I feel the final photo will not be of high quality, I will inform you before proceeding. Please refer to the photo information page for pricing and how to order.